Experience the Thrill of Wakesurfing on Lake Tahoe
Welcome to Birkholm's Water Ski School Lake Tahoe, your ultimate destination for thrilling watersports adventures. If you're searching for an adrenaline-pumping activity on the pristine waters of Lake Tahoe, look no further than wakesurfing. Join us as we delve into the exhilarating world of wakesurfing and explore why Lake Tahoe is the perfect playground for this exciting water sport.
What is Wakesurfing?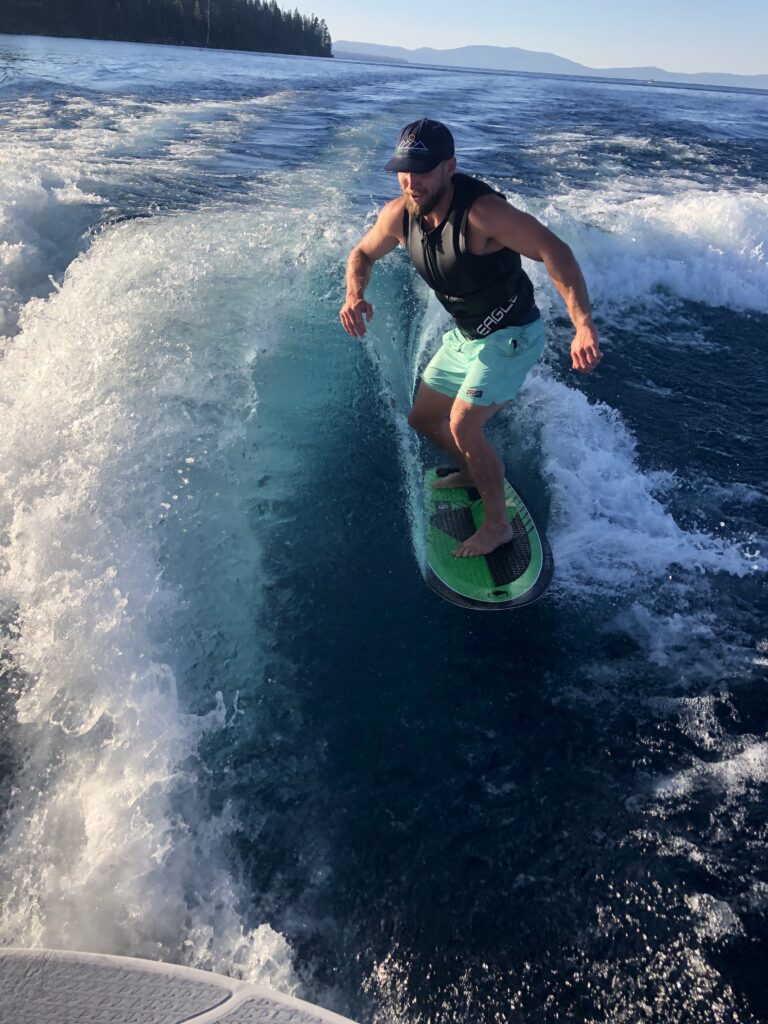 Wakesurfing is a captivating watersport that combines elements of waterskiing, wakeboarding, and surfing. Unlike traditional water sports where you are pulled by a rope, wakesurfing allows you to ride the boat's wake without the need for a towline. By using the natural energy generated by the boat, you can carve and ride the waves just like a surfer. It's a thrilling experience that will leave you craving more.
Why Lake Tahoe is Ideal for Wakesurfing
Pristine Waters: Lake Tahoe's crystal-clear waters provide the perfect canvas for wakesurfing. With depths reaching up to 1,645 feet, you'll find ample space to carve through the waves and enjoy uninterrupted rides.
Stunning Scenery: Surrounding Lake Tahoe are breathtaking mountain vistas that create a picturesque backdrop for your wakesurfing adventure. Immerse yourself in the beauty of nature as you glide across the water, feeling the sun on your face and the wind in your hair.
Ideal Weather Conditions: Lake Tahoe boasts an idyllic climate for watersports enthusiasts. The summer months offer warm temperatures and clear skies, ensuring you have optimal conditions for wakesurfing. The calm mornings and evenings provide the perfect time to hit the water and enjoy the serenity of the lake.
Booking a Wakesurfing Trip on Lake Tahoe
At Birkholm's Water Ski School Lake Tahoe, we offer comprehensive wakesurfing packages tailored to your skill level and preferences. Whether you're a seasoned pro or a beginner looking to learn, our experienced instructors are here to guide you every step of the way. Choose from our range of boats specifically designed for wakesurfing and let us create an unforgettable experience for you.
Additionally, if you're looking to make the most of your time on Lake Tahoe, we offer boat tours where you can explore the stunning shoreline, visit hidden coves, and soak in the beauty of the surroundings. For those seeking a bit of variety, we also provide other exhilarating watersports options such as waterskiing, wakeboarding, and tubing.
Get Ready for an Unforgettable Adventure!
Are you ready to take on the thrilling world of wakesurfing on Lake Tahoe? Book your trip with Birkholm's Water Ski School Lake Tahoe today and embark on an unforgettable adventure. Whether you're seeking a solo escapade, a family outing, or a group adventure, we have the perfect package to suit your needs. Don't miss out on this incredible opportunity to experience the joy of wakesurfing amidst the natural splendor of Lake Tahoe.
Book Your Trip Today
Lake Tahoe is a haven for watersports enthusiasts, and wakesurfing is a standout activity that should be on every adventurer's bucket list. With its pristine waters, stunning scenery, and ideal weather conditions, Lake Tahoe offers the perfect backdrop for an exhilarating wakesurfing experience. So, what are you waiting for? Take the plunge, ride the waves, and create memories that will last a lifetime. Book your wakesurfing trip on Lake Tahoe with Birkholm's Water Ski School today!