Explore Lake Tahoe's Scenic Beauty: Boat Tours and Watersports Activities
Welcome to Birkholm's Water Ski School Lake Tahoe! Get ready for an unforgettable adventure amidst the stunning beauty of Lake Tahoe. From thrilling watersports activities to breathtaking boat tours, we offer a gateway to the wonders of this alpine paradise.
Lake Tahoe, nestled amidst the majestic Sierra Nevada mountains, is a true gem. Its crystal clear waters and picturesque surroundings provide an ideal setting for exploration and excitement. Whether you're a nature lover, adventure seeker, or in need of a serene environment to unwind, Lake Tahoe has something magical in store for you.
At Birkholm's Water Ski School Lake Tahoe, we're passionate about creating exceptional experiences for watersports enthusiasts and those eager to discover the wonders of the lake. Our boat tours offer panoramic views of snow-capped peaks and lush forests, allowing you to immerse yourself in the tranquil beauty of Lake Tahoe. Additionally, our thrilling watersports activities, including waterskiing, wakeboarding, wakesurfing, and tubing, will give you an adrenaline rush like no other.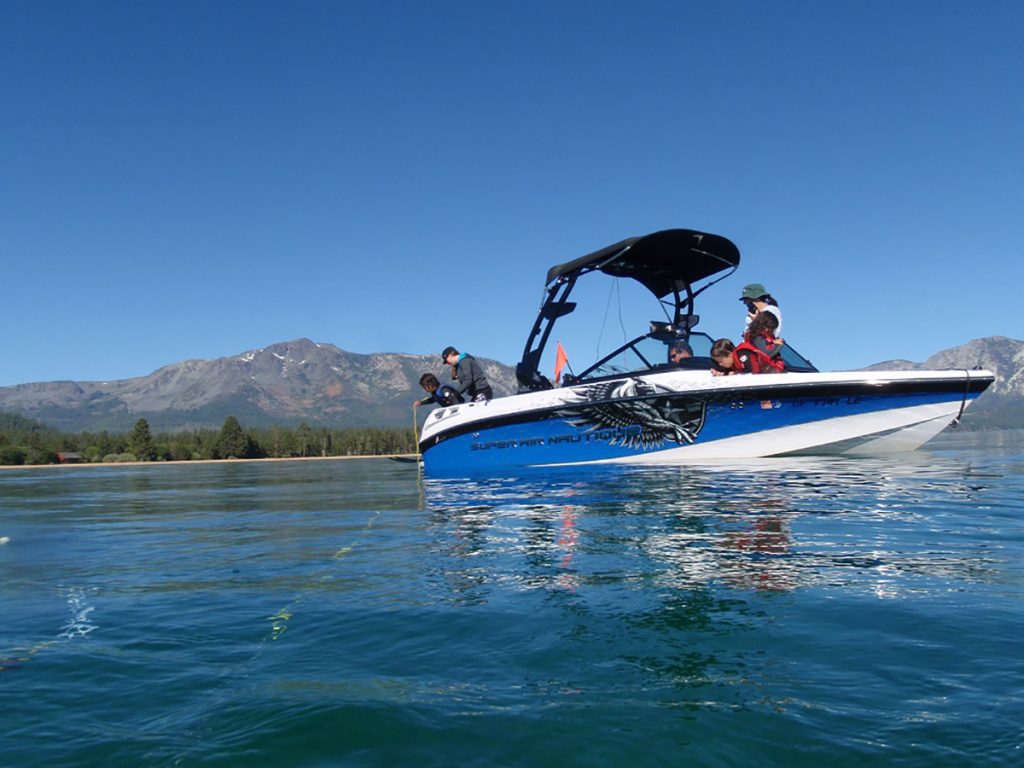 Boat Tours on Lake Tahoe
Discover the wonders of Lake Tahoe from the comfort of a boat tour. Whether you're seeking scenic beauty, relaxation, or an opportunity to explore hidden gems, our boat tours have something for everyone.
Embark on a boat tour with Birkholm's Water Ski School Lake Tahoe and let the beauty of Lake Tahoe unfold before your eyes. Our experienced guides will ensure you have a captivating experience, sharing their knowledge and love for this remarkable destination.
Marvel at the vibrant hues of the lake as you cruise along the sparkling waters, taking in the panoramic views of the surrounding mountains and pristine shorelines. Don't forget to have your camera ready to capture the breathtaking moments along the way!
Watersports Activities
Lake Tahoe is not just a place for leisurely boat tours; it's also a haven for thrilling watersports activities. Dive into the excitement and experience the rush of adrenaline with our range of exhilarating options.
Wakesurfing: Experience the unique sensation of riding an endless wave behind the boat with wakesurfing. With the help of our expert instructors, learn how to balance and maneuver on the smooth, curling wake. Whether you're a beginner or an experienced rider, wakesurfing on Lake Tahoe promises an unforgettable and thrilling experience.
Wakeboarding: For those seeking a more adventurous watersports activity, wakeboarding is the perfect choice. Strap your feet onto a wakeboard and let the boat's wake propel you into gravity-defying jumps and impressive tricks. Lake Tahoe's expansive waters provide ample space for riders of all skill levels to showcase their moves and have a blast.
Waterskiing: Strap on your skis and feel the exhilaration as you glide across the glassy surface of Lake Tahoe. Whether you're a seasoned pro or a beginner looking to try waterskiing for the first time, our instructors are here to guide you. Enjoy the thrill of the wind in your hair and the freedom of carving through the water, surrounded by the breathtaking scenery of the lake.
Tubing: If you're looking for pure fun and laughter on the water, tubing is a must-try activity. Hop onto an inflatable tube and hold on tight as the boat pulls you across the lake's surface, bouncing and gliding over the waves. Perfect for families, friends, or anyone seeking a joy-filled adventure, tubing on Lake Tahoe guarantees a memorable and enjoyable experience.
At Birkholm's Water Ski School Lake Tahoe, we provide top-of-the-line equipment and expert guidance to ensure your safety and maximize your enjoyment. Our experienced instructors will teach you the techniques, offer helpful tips, and create a supportive environment for you to try these thrilling watersports activities.
Why Choose Birkholm's Water Ski School Lake Tahoe
When it comes to enjoying boat tours and watersports activities on Lake Tahoe, choosing the right provider can make all the difference. Here's why Birkholm's Water Ski School Lake Tahoe stands out from the rest:
Expertise and Experience: With years of experience in the industry, our team at Birkholm's Water Ski School Lake Tahoe possesses extensive knowledge of Lake Tahoe and its watersports scene. We understand the unique dynamics of the lake, ensuring that you have a safe and enjoyable experience every time.
Top-Notch Equipment: We believe in providing our guests with the best equipment available. From high-quality skis, wakeboards, and wakesurfing boards to state-of-the-art safety gear, we prioritize your safety and comfort throughout your adventure. Rest assured that you'll be equipped with reliable gear designed to enhance your watersports experience.
Well-Trained Instructors: Our instructors are not only skilled watersports enthusiasts but also excellent teachers. They are passionate about sharing their expertise and helping you improve your skills, whether you're a beginner or a seasoned rider. Their patient and personalized approach ensures that you feel confident and supported every step of the way.
Personalized Approach: At Birkholm's Water Ski School Lake Tahoe, we treat every guest as an individual. We understand that each person has unique preferences and goals, and we tailor our services to meet your specific needs. From customizing boat tours to providing guidance and instruction based on your skill level, our aim is to make your experience exceptional and memorable.
Commitment to Customer Satisfaction: Your satisfaction is our top priority. We strive to go above and beyond to ensure that you have an unforgettable time on Lake Tahoe. From the moment you contact us to the end of your adventure, we're dedicated to providing exceptional service and creating memories that will last a lifetime.
Choose Birkholm's Water Ski School Lake Tahoe for your boat tours and watersports activities, and let us exceed your expectations. We are passionate about sharing the wonders of Lake Tahoe with you and ensuring that your experience is nothing short of extraordinary.
Your Unforgettable Watersports Adventure Awaits!
As we conclude our guide to boat tours and watersports activities on Lake Tahoe, we hope you're feeling inspired to embark on your own thrilling adventure. Lake Tahoe offers a remarkable playground for watersports enthusiasts, with its pristine waters and breathtaking scenery.
At Birkholm's Water Ski School Lake Tahoe, we are passionate about providing exceptional experiences and creating lasting memories. Whether you choose to explore the lake on a boat tour, try your hand at waterskiing, wakeboarding, wakesurfing, or enjoy the laughter-filled excitement of tubing, we are here to make your time on Lake Tahoe unforgettable.
Remember to stay safe, respect the environment, and embrace the thrill of the waters. Your unforgettable adventure awaits on the sparkling waters of Lake Tahoe!